Facilities in Medicaid Hospital
In a operating department for which the most integrated function is required, cleanliness must be kept and the safety of facilities, equipments and devices must be maintained any times. Furthermore, the working environment for medical staff such as doctors and nurses must be considered from the view point of human engineering
---
Endoscopy is a nonsurgical procedure used to examine a person's digestive tract. Using an endoscope, a flexible tube with a light and camera attached to it, your doctor can view pictures of your digestive tract on a color TV monitor.
---
The Department provides general respiratory services to inpatients and outpatients, including respiratory function assessment, fibreoptic bronchoscopy, sleep monitoring, lung oncology as well as clinical management of all respiratory disorders. Respiratory Medicine outpatient clinics are held weekly.
---
The Auditory Perception and Speech Lab in medicaid hospital. The lab facilities include software and hardware for the recording, analysis, editing, and synthesis of sound signals, and a sound-insulated booth for carrying out perception experiments and sound recordings.
---
Our noninvasive lab, which is certified by Medicare, includes many different procedures that will aid your physician in your diagnosis and care. Nurse practitioners and registered nurses are on staff to monitor pharmacological stress testing. The physicians who interpret these tests are board certified in cardiology.
---
Pathology is a medical specialty that focuses on determining the cause and nature of diseases. By analysing and testing body tissue and fluids, pathology enables medical professionals to diagnose and treat patients correctly.
---
Dialysis is a treatment that does some of the things done by healthy kidneys. It is needed when your own kidneys can no longer take care of your body's needs. Our health care team will perform several tests to check if your dialysis is removing enough waste products.
---
Each of us are individuals, no two people are alike. We eat different foods, exercise at different rates and times, and consume different amounts of vitamins and minerals. We all require the same basic nutrients such as proteins, carbohydrates, fats and vitamins, minerals and enzymes. Proper nutrition is an essential aspect of diagnosis and treatment. Nutrient related disorder can be cured once nutritional balance is achieved.
---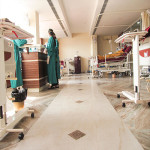 State of the art ICU in hospital facilities

We have equipped our ICU with state of art infrastructure (including high end invasive and non invasive ventilators, monitors, defibrillators, bronchoscopes etc.), ICU trained nursing staff and well qualified ICU doctors. We have separate isolation cabins for highly infectious patients thus maintaining the highest level of sterility for our ICU patients.​

Above facilities makes the medicaid one of the best hospital in Amritsar.