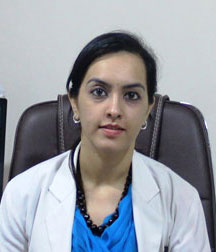 Dr. Ruchika Grover
(M.B.B.S., DNB ENT Surgeon)
Endoscopic Nasal Surgery
Microscopic Ear Surgery
Micro Laryngeal Surgery
Hearing & Speech
Snoring Disorders
Thyroid Disorders
Department of ENT & HEAD NECK SURGERY is being headed by Dr. Ruchika Grover.She has done her MBBS from GMC Amritsar and post graduation from the prestigious Jaipur Golden Hospital, New Delhi. She has done her senior residency from Sri Guru Ram Das institute of medical sciences and research, Amritsar. Dr. Ruchika (ENT Specialist in amritsar) is practicing in the city of Amritsar from last 5 years. She has special interest in snoring and sleep apnoea and is trained for the same from Singapore. All kind of services related to ENT are being provided at Medicaid hospital Amritsar.We are equipped with the latest state of art technology for opd, diagnostic as well as surgical purposes.
We are running OPD CLINICS at medicaid hospital
 Snoring and sleep apnoea clinic
 Deafness clinic
 Thyroid clinic
OPD PROCEDURES being routinely done in our department are
Nasal endoscopy
Fibreoptic laryngoscopy
Microscopic evaluation of ear disease
Sleep study and sleep endoscopy
Non surgical closure of ear drum perforations
Endoscopic cauterisation for recurrent nasal bleeding
Foreign body removal from ear, nose or throat
AUDIOLOGY AND SPEECH DEPARTMENT
Medicaid hospital has a dedicated diagnostic and rehabilitative audiological and speech therapy set up. We have a full time audiologist and speech specialist are providing the following services:
1. Pure tone audiometry
2. Impedance audiometry
3. Speech audiometry
4. Special testts of hearing
5. Otoacoustic emissions
6. BERA
7. ASSR
8. Hearing aids
9. TRT
10. Speech and language therapy for all types of speech disorders
SURGICAL ENT
All basic ENT surgical procedures are being done at Medicaid Hospital
1. Tonsillectomy and Adenoidectomy.
2. Surgery for deviated nasal septum ( septoplasty/ smr).
3. Endoscopic sinus surgery for sinusitis and nasal polyps.
4. Endoscopic cauterisation for recurrent epistaxis.
5. Turbinate reductions
6. Rhinoplasty (nose job)
7. Closure of ear drum perforations(Tympanoplasty)
8. Mastoidectomy
9. Ossicular implants
10.Stapedotomy
11.Ccochlear implant
12. BAHA implant
13. Surgery of the salivary glands
14. Thyroidectomy
ADVANCED PROCEDURES
1. Surgery for snoring and sleep apnoea
2. Cochlear implant surgery
ENDOSCOPIC SINUS SURGERY:  This technique is helpful in looking into the interiors of nasal cavity for various nasal problems like establishing the site of bleeding and sealing the bleeder by cauterisation , for diagnosis of chronic sinusitis, nasal polyps and other nasal masses, intranasal  biopsies.
• Endoscopic surgery can be done for treatment of chronic sinusitis, nasal polyposis,  repair of nasal CSF leaks and nasal pituitary surgery.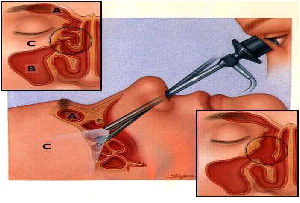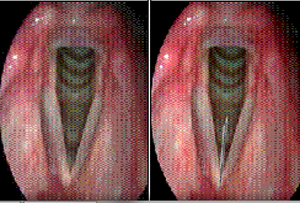 Fiberoptic pharyngo-laryngoscopy: This is a diagnostic technique used for visualizing the nasopharynx, oropharynx, hypopharynx and larynx for diagnosis of various conditions like nasopharyngeal masses, gastroesophageal reflux, vocal cord polyp or nodules, any cancerous growth in growth in hidden areas like base of tongue, pyriform fossae and also taking biopsy from these sites. It is also used for doing sleep endoscopy in patients of snoring and sleep apnoea to identify the site of  blockage which can be later on surgically accessed.
Microscopic surgeries for ear diseases: Microscopic ear surgery is done for  repair of perforations of the ear drum , for management of more complex problems like mastoiditis and unsafe type of ear disease, for mastoidectomy and restoration of hearing in patients with fixed ossicles. Also used for removing fluid from the middle ear and putting ventilation tubes in cases of serous otitis media in both children and adults.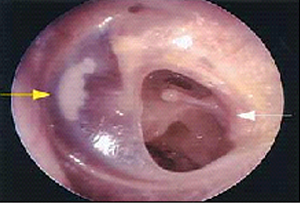 Microlaryngeal surgery: All surgery for voice disorders is done by microscopic technique.Surgery for snoring and sleep apnoea: Snoring and sleep apnoea is the third largest disease after diabetes and cardiac. Recently there have been advancements in the diagnosis and management of sleep apnoea. Though CPAP remains the gold standard there has been sea change in  the diagnostic evaluation of these patients. Due to more accurate diagnosis and better technique, there is much improvemnt  in the surgical outcome with much less morbidity. At medicaid we are doing multilevel surgery for snoring and sleep apnoea stating from the nose to palate and hypopharynx using the latest coblation technology which is not only bloodless but also leads to a relatively pain free post op recovery.
Cochlear implant: Deafness in children is generally diagnosed after birth or in initial few months when parents notice that child does not respond to noise and parents call. deafness in new born can range from severe to profound.  The solution to such problem is cochlear implant. CI  is a surgically implantable electronic device that is used by people who receive minimal or no benefit from a conventional hearing aid.CI surgery is now available at medicaid hospital and is being done by Dr.Sumit Mrig( hearing specialist in amritsar) who is senior consultant and cochlear implant specialist from Primus hospital, New delhi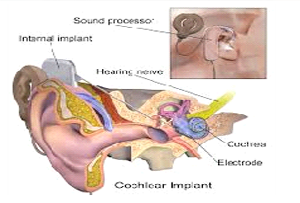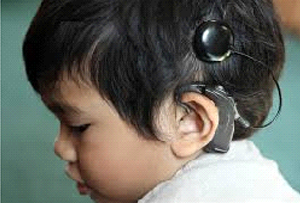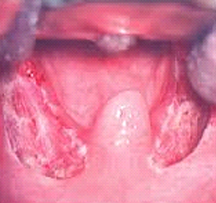 Coblation : Coblation is an advanced technology that quickly and effectively removes and  shrinks tissue using gentle radiofrequency energy and natural saline. This technology is being used for tonsil, adenoid surgery, for turbinate reductions and palatal channeling for snoring, other surgeries for snoring . it is also being used for all kinds of laryngeal/ voice surgeries…..the advantage being that it is a bloodless and relatively painless procedure.