Cancer specialist in Amritsar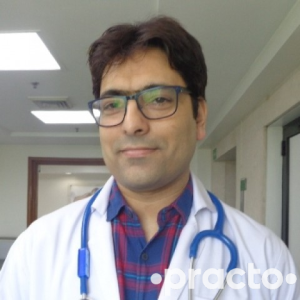 DR. HAKEEM ANSARI
Radiation Therapy
Chemotherapy
Immunotherapy
You probably think of cancer treatment as a modern practice, but the word oncology has its roots in ancient Greek. The prefix onkos means "mass or bulk" (and eventually evolved into the modern Latin onco — meaning tumour) and the suffix logy means "study of." In theory, the word means "the study of tumours." More often, though, you will hear oncology in relation to treatment and practical medicine, as opposed to just study or research.
What is cancer?
Each of the cells of the body have a tightly regulated system that controls their growth, maturity, reproduction and eventual death. Cancer begins when cells in a part of the body start to grow out of control. There are many kinds of cancer, but they all start because of out-of-control growth of abnormal cells.
How common is cancer?
Today, millions of people are living with cancer or have had cancer.
Role of an oncologist
Medical professionals who practice oncology are called Cancer specialists or oncologists. These oncologists have several specific roles. They help in diagnosis of the cancer, help in staging the cancer and grading the aggressive nature of the cancer.
Oncology diagnostic tools
The most important diagnostic tool remains the clinical history of the patient. Common symptoms that point towards cancer include fatigue, weight loss, unexplained anemia, fever of unknown origin etc.
Oncology depends on diagnostic tools like biopsy or removal of bits of the tumour tissue and examining it under the microscope. Other diagnostic tools include endoscopy for the gastrointestinal tract, imaging studies like X-rays, CT scanning, MRI scanning, ultrasound and other radiological techniques, Scintigraphy, Single Photon Emission Computed Tomography, Positron emission tomography and nuclear medicine techniques etc.
Common methods include blood tests for biological or tumor markers. Rise of these markers in blood may be indicative of the cancer.
Cancer therapy
Based on the grade and stage of the cancer, oncologists help plan the therapy that is suitable for each of their patients. This could be by surgery, chemotherapy, radiation therapy and other modalities.
Other specialists
Treatment of cancer may involve other specialists as well. This includes a surgeon, a radiation oncologists or a radiotherapist etc. the whole of the cancer therapy however is co-ordinated by the oncologists.
Relapse and remission
Once initial therapy is completed the oncologists is responsible for follow up of the patient to detect relapse and remission. The former means recurrence or return of the cancer while being in remission means remaining cancer-free.
Palliative care
The oncologist is also responsible for palliative or symptomatic care in patients with terminal malignancies. This and other issues of treatment choice have several ethical issues including patient autonomy and choice that the oncologist needs to be concerned about.
Cancer screening
Oncology and cancer research involves screening the general population for cancer and screening the relatives of patients (in types of cancer that are thought to have a hereditary basis. For example, in breast cancer both population screening by regular mammography and familial screening by genetic analysis of the BRCA1 and BRCA2genes is performed.
Progress in oncology
There is a tremendous amount of research being conducted on all areas of oncology, ranging from cancer cell biology to chemotherapy treatment regimens and optimal palliative care and pain relief. This makes oncology a continuously changing and developing field.
Cancer research is carried out in clinical trials. In the UK, patients are often enrolled in large studies coordinated by Cancer Research UK (CRUK), Medical Research Council (MRC), the European Organisation for Research and Treatment of Cancer (EORTC) or the National Cancer Research Network (NCRN).